One recurring topic that continues to come up is the idea of outsourcing your IT, and when is the appropriate time to start taking a serious look at that model. Whether it's because of budgetary constraints or a laundry list of other reasons, sometimes it's in your best interest to find a strategic partner that can come alongside you to take the helm and steer in the right direction.
Most small to medium-sized organizations recognize the importance in maintaining a lean structure, optimized processes, and investing your resources in things that will allow you to maximize your impact on the market.
But how exactly does an organization go about doing that?
One of the most popular methods for achieving that end, especially in today's tech-focused age is with an Outsource IT model.
If your business relies on technology on a daily basis, below are 7 signs that you could benefit from outsourcing your IT needs.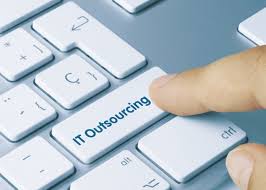 IT Negatively Affects Business Operations
Anyone who has worked in corporate America has experienced at one point or another the introduction of a new software update or a new piece of hardware that, at least when it first arrived, slowed things down.
Questions like "How do we use this?" or "How does this integrate into our workflows?" swirl around the workplace and what's worst is that your internal IT person still needs to attend training to understand the change themselves.
When you outsource technical support, you'll benefit from the perspective of multiple IT professionals. Many of those professionals will have gotten out in front of today's newest advances and will be able to help you be productive right out of the gate.
2. You're Spending Too much on IT
If you run a small business, chances are you're looking for ways to cut costs. If you're not looking for ways to cut costs, frankly, you should be.
Every dollar spent in excess on a particular expense is a dollar lost that you could be investing in exploring new products, marketing your company, and cementing your organization deeper into consumer's consciousness.
When you outsource technical support, you'll be off the hook when it comes to paying an internal IT person anywhere from $46,000 – $80,000 per year. You'll also dodge the need to give that employee paid time off and pay into their benefits package.
3. Your IT is clearly lagging behind
Technology is constantly evolving at a rapid pace. Unless your company can quickly update existing software and adjust configurations to accommodate these changes, your performance will certainly suffer.
By working with a reputable IT consulting firm, you get access to the latest and greatest technology on IT infrastructure, collaborative tools, data management, VoIP systems, and so on. This way, you can implement the ideal solutions for your business.
4. Your Business Has Grown
As a small to medium organization, you want your business to grow over time. But with growth comes an increased demand for greater IT support.
As you expand, you'll need more complex and secure IT infrastructure than you did in previous years. Your current IT staff may not possess the skill set required to meet your IT support requirements. If you don't have the time or resources to train your current staff and recruiting new IT employees isn't an option, outsourcing is your most viable option.
5. You're vulnerable to security threats
Cybercrime is a genuine threat in today's business world. Companies that don't continuously update their security systems are vulnerable to all sorts of cybersecurity threats, including ransomware and zero-day attacks. Such attacks can cause massive and sometimes irreversible damage to companies.
The cost of a data breach is estimated to be almost 4 million dollars for a business. If you're trusting IT, and consequently, the protection of your customer's and company's data to an internal tech novice, you are putting yourself at risk.
With an external team of IT and Cyber Security professionals, you not only outsource your IT tasks but your IT risk which reduces your liability and also strengthens your security.
6. Stay Focused on What You're Good At
If you're a small business who specializes in providing HVAC services, there's no reason why you should be spreading yourself (or your wallet) thin also trying to specialize in managing day-to-day IT problems.
Outsourcing technical support means your office stays focused on practicing what you do best and an external team can focus on extraneous subjects like tech or security.
7. Stay Competitive
Every point we've listed above supports one massive end-goal… to be as competitive as you can stay competitive in an impacted marketplace.
If that sounds like something you want to do, hop online or pick up the phone and get to work reliving your internal team of its IT
It's Time to Outsource Tech Support
If our write-up above has inspired you to outsource technical support, we are here to help.
Infonaligy Partners has walked alongside companies in DFW for the last 20 years as their IT and cybersecurity partner. The most common challenge we see for companies is having the right pieces in place that align with their business and keeping all their employees and "crown jewels" secure and operational at all times no matter where they are.
Learn more about the value we can bring to your company by contacting us for your free IT consult!